ThyssenKrupp Elevator remains on gr...
ThyssenKrupp Elevator remains on growth track
2013-09-13 09:29:15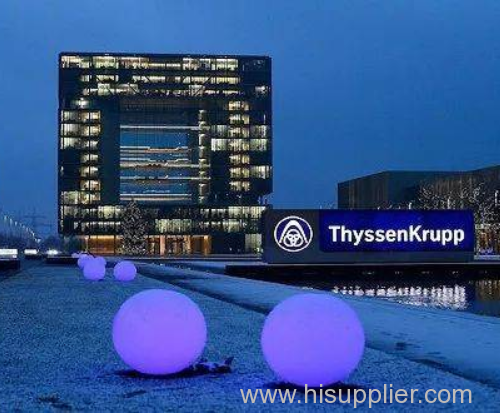 Acquisition of Eggert elevator operations strengthens presence in Germany
ThyssenKrupp Elevator is further expanding its new installations and service business in Germany: As part of its growth strategy the company has now acquired all operations of Eggert Aufzüge GmbH (Troisdorf) and EGGERT Lift-Technik GmbH (Berlin).
"The acquisition is a continuation of our ambitious growth plans," said Andreas Schierenbeck, CEO of ThyssenKrupp Elevator AG. "Eggert enjoys an excellent reputation with its customers. Its strong local presence, in particular in the Rhineland region and Berlin, is the ideal fit with our market position in Germany."
Established over 40 years ago, Eggert Aufzüge is specialized in the design, engineering, manufacture, installation and servicing of tailored elevator solutions for residential and commercial buildings. The same is true of EGGERT Lift-Technik, based in Berlin since 1990.
"As a family-owned company, we need to think about succession planning," said Detlef Eggert, Managing Director of Eggert Aufzüge GmbH. "Securing the long-term competitiveness of Eggert's elevator operations was a key factor in our decision to sell to ThyssenKrupp Elevator." Winfried Eggert, Managing Director of EGGERT Lift-Technik GmbH, added: "As one of the world's leading elevator companies, ThyssenKrupp Elevator offers ideal conditions for us to maintain and grow our business."
As part of ThyssenKrupp's strategic development program and the systematic expansion of its technology business, ThyssenKrupp Elevator has been acquiring established small and medium-size elevator companies in Germany and abroad for several years. For ThyssenKrupp Elevator, this addition to its service business opens up further opportunities for improved efficiency and profitable growth. The takeover of Eggert's elevator business is its most significant acquisition in Germany since Tepper Aufzüge in 2003.
Following the signing of the purchase contracts, the transaction has already been approved by the companies' supervisory bodies and the responsible regulatory authorities. The closing and transfer of all shares to ThyssenKrupp Elevator is expected in the coming weeks.
The Elevator Technology business area brings together the ThyssenKrupp Group's global activities in passenger transportation systems. With sales of 5.7 billion euros in fiscal 2011/2012 and customers in 150 countries, ThyssenKrupp Elevator is one of the world's leading elevator companies. The company with more than 47,000 highly skilled employees supplies innovative and energy-efficient products tailored to specific customer requirements. Its portfolio includes passenger and freight elevators, escalators and moving walks, passenger boarding bridges, stair and platform lifts as well as tailored service solutions for all products. 900 locations around the world provide an extensive sales and service network to guarantee closeness to customers.
---